ASI International
---
About
Metals, Alloys and Fluxes for the Nonferrous Foundries Industry
Crucible Melting Cleansing fluxes for Aluminum, Copper Base alloys and other nonferrous metals
Aluminum Fluxes:
AlucoFlux AL, GD, GD2, GD3, GD5, GDC, HM, HM, HS, SFM fluxes for crucible melting

AlucoFlux DS2, GD5, SF, SFM, ILD fluxes for Reverberatory Melting Furnaces

AlucoFlux FW, FW-11 fluxes for Furnace Wall Cleaning

AlucoFlux HM, SF, SFM fluxes for Aluminum Magnesium Alloys
Copper Fluxes:
AlucoFlux YB,GB,FWC,AB, AB-2, PC, DO, SB fluxes for Copper Base Alloys
Magnesium Fluxes:
AlucoFlux MG-1, MG-5, MG-8 fluxes for Melting and Refining Magnesium Alloys
AlucoFlux ZN-2 for Zinc and Lead Alloys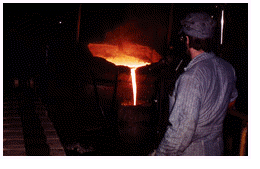 AlucoFlux GFL, GFP Galvanizing Fluxes
Ladle Cleaning Fluxes and Slag Coagulants
ThermTop Exothermic Riser Compounds
ThermSul Top Insulating Riser Compounds
Redux EF40 – Electric Induction Furnace fluxes
Specialty Roll Fluxes
The products shown above have a very significant history in non-ferrous melting. They were developed in the mid 1960's by the Thiem Corporation and gained prominence in the industry. In the early 1980's, Thiem was purchased by Borden Chemical (now HA International) in the early 1980's and was subsequently sold to the Hickman Williams and Company's Black Products Division in 1993. HW sold the product lines to our joint venture in November 2004 and ASI and Black Lab Products/Fairmount Minerals have continued to manufacture and make improvements to the product line since.
Visit ASI's web site for additional product information, the latest product developments to reduce melting costs, and technical publications on solutions to casting defects and melting problems
Contact
1440 E 39th Street
Cleveland, Ohio 44114
United States of America